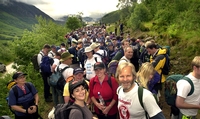 The next RBS Caledonian Challenge will take place on Saturday 13th and Sunday 14th June 2009.
To reserve a team for the RBS Caledonian Challenge please click here
For more information about the RBS Caledonian Challenge please click here to fill in our enquiries form
Event Publications
If you are trying to get a team together and need some materials to help you do this then we have just what you need. The following publications are available for you to request within our enquiries page:

Brochure
Leaflet
Poster
CD-Rom
FAQs
Read our answers to some of your most frequently asked questions related to the RBS Caledonian Challenge.

'The Walk of Your Life' Presentations
The RBS Caledonian Challenge 'Walk of Your Life' presentations aim to inform, inspire you give you a full flavour of the upcoming event. Come along to find out if this event is for you......I'm sure we'll be able to convince you it is!
Personal Preparation
What should you be doing to train for this event? Also includes a checklist of activities.
Elite Teams
We understand that some participants prefer to run rather than walk the Caledonian Challenge route and hence will allow you to do so as an Elite Team. Please ensure you read the special requirements of entry for Elite teams and contact us to let us know this is your preferred entry scheme.
Company Teams
Do you want to enter the RBS Caledonian Challenge as part of a company team? Many enlightened employers recognise the personal development, team-building and general staff health & welfare benefits participation in this endeavour offers and are therefore willing to support your participation, possibly by covering your entry fee? If so, it may be worth you entering the Challenge under the Company Team Entry Scheme 2009!
Event Format
What will happen on the RBS Caledonian Challenge and how the event works.
Route
What area does the event cover, and how high are the hills in Scotland?
Map and Topography
Where and how high will you go?
2009 Terms & Conditions
We want you to be in the know, so here's the definitive guide to entering the RBS Caledonian Challenge 2009.