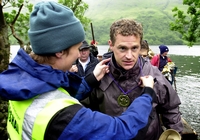 As a sponsor, your participation in The RBS Caledonian Challenge may be less exhausting but is certainly no less vital than the walker's. It's your money that makes the blisters worthwhile. The funds you donate go the the Scottish Community Foundation, a unique charity supporting the work of local charities and community organisations the length and breadth of Scotland.
On this page you should be able to find what you need to be able to sponsor a team and we'd like to give you a big thank you from the bottom of our boots for your support.
Sponsor a team
If you'd like to sponsor friends who are taking part you'll need to know their team name. Use this link to sponsor the team and donate online.
All sponsorship cheques must be made payable to the Scottish Community Foundation, postal and online donations can be made via our secure website here .
Cheque Payments
If you are making a postal donation we please ask you to complete your team's online fundraising page here and opt for a postal donation at the end of the transaction, you will be able to print a paying in slip and include this with your cheque.
Sponsorship cheques should be made payable to the Scottish Community Foundation and sent to the address below:
Calton House
22 Calton Road
Edinburgh
EH8 8DP
What is Gift Aid
Gift Aid allows the Caledonian Challenge to maximise the benefit from your donations. Read this page and find out why you should agree to Gift Aid!
Sponsorship Tips
If you'd like any help on how to raise sponsorship this is where to look.
As the charity which organises the Caledonian Challenge all participants must raise funds for the The Scottish Community Foundation. Team members are however encouraged to invite charities or community groups in Scotland of their choice to apply to The Scottish Community Foundation for grants of up to £5000. Click here for: successful grants awarded and details on how to apply