Personal Preparation
Training and Preparation
With the right training and preparation, people of all sorts of ages and fitness levels can participate in the RBS Caledonian Challenge.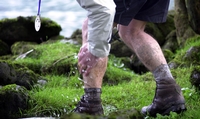 The key to completing 54 miles in 24 hours is to start you and your teamís training as early as possible. By that, we mean at least 3 months before the event in June.
We strongly encourage you and your team members to train as a team and build up your training regime together. This will more effectively prepare you as a team unit and to build the collective spirit and determination that will be required to overcome the 54 mile course.
In order to help you and your team train and prepare for taking part in the RBS Caledonian Challenge, we will provide you with a detailed training guide online via the Team Login area once you have registered and have paid the registration fee.

Here, we will give you expert advice and tips on planning an effective training schedule; how to build up distances covered on your training walks; where to walk by suggesting examples of areas in which to train; what important kit items you should buy; how to manage your nutrition and hydration, both in training and on the Challenge itself; and what pitfalls to avoid.