For the last four years, The Extra Challenge has been open to participants with disabilities or health problems that prevent them from completing the full Caledonian Challenge. This seperate event has challenged participants to complete 8 miles of the route, starting near Checkpoint 3.
The Extra Challenge started in 2003 with just 8 hardy souls on foot over Rannoch Moor. 2006 was the 4th year of the Extra Challenge and the largest with 27 participants aged from 24 to 72, with medical conditions such as MS, polio, muscular dystrophy, learning difficulties, spinal injuries and arthritis completed the 8 miles. Some participants walked and others used wheelchairs or scooters.
Over the four years, the Extra Challenge has seen many successes and achievements. Many of these we could not have anticipated and we would like to thank several key people and organisations for their input and energy…
Eva McCracken, Helen Mclean and Heather Macdonald
Graham Leggett (winner of the Courage Cup in 2005)
All our marshals and especially Kyrsta Macdonald and James Templemen
Ian Murphin of Scottish Disability Sport
Shopmobility for providing scooters and sweep vehicles.
In order to more effectively focus its efforts on its core business of raising funds for Scottish communities and organisations, The Scottish Community Foundation has been reviewing all activity, including its fundraising events.
Although successful on its own terms, The Extra Challenge is a cost (direct cost of £12,000) to the Scottish Community Foundation, requires more specialist resources and is not effective as a fundraising event for the Foundation (just over £1,000 was raised in 2006).
Therefore, the Scottish Community Foundation has decided not to continue running the Extra Challenge and to focus its efforts on core business.
The Caledonian Challenge continues to be open to participants with special needs. If any individual with special needs wishes to enter the Caledonian Challenge and like any participant pay the £125 entry fee, enter in a team and raise the minimum £500 for the Scottish Community Foundation then they should contact us and discuss how we can help to meet their needs and participate.

Through its grantmaking, the Scottish Community Foundation continues to support projects that provide opportunities for disabled people in Scotland to participate in leisure and recreation activities they might otherwise be excluded from and welcomes applications for funding from community-based organizations and charities working in this field.
We would like to congratulate those who have taken part over the past four years and encourage any organisation for whom running disabled sporting events is within their core business to take up the baton and continue to provide opportunities for disabled outdoor challenges and activities.

2006 Role of Honor - Congratulations to all who took part

Miss Angela Burroughs
Mr Bryn Tricker
Ms Mary Guild
Mr Geoffrey West
Ms Mary Hardie
Mrs Helene MacLean
Mr John Curran
Mrs Eva McCrachen
Mrs Heather MacDonald
Ms Linda Brown
Ms Elizabeth Ferguson
Ms Rita Purdie
Mr Billy Hill
Mr David Wood
Mrs Janet Wood
Mr Billy McKay
Ms Linda Brown
Ms Lesley-Anne Johnston
Ms Vivien Mullett
Mr Frank Toulson
Mr Mark Scott
Mr David Cowan
Miss Holly Millar
Ms Margaret Mullett
Ms Rachel Thornburn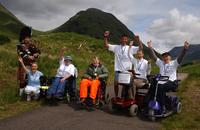 For more information please contact the Events Team at [email protected] telephone 0131 524 0350 or you can write to The Extra Challenge, Scottish Community Foundation, Calton House, 22 Calton Road, Edinburgh, EH8 8DP or visit: www.caledonianchallenge.com/extra